Archaeological Conservation Institute 2012
The course was held in CCA's operational headquarters in the San Nicola Convent, Belmonte in Sabina, 50 miles from Rome. It took place between the 15th and the 28th of May 2012 and was followed by an optional three days' trip to the Bay of Naples area. ACI 2012 was attended by undergraduate and graduate students from Randolph College, Virginia, Grove City College, Pennsylvania, and University of Richmond, Virginia.
The course was structured in theory classes, seminars, and laboratory practice. The subjects of taught classes included:
– General Principles of Conservation;
– Ancient Materials and Technologies;
– Conservation and Restoration;
– Documentation;
– Cultural Heritage and Communication.
Students participated in the on-going conservation project of the 1st -2nd century AD Roman villa of Sant'Imbenia in Sardinia, working on ancient frescoes and an opus sectile floor. They were also involved in the restoration of a black and white mosaic, from the Roman villa of Quadraro, Rome.
Participants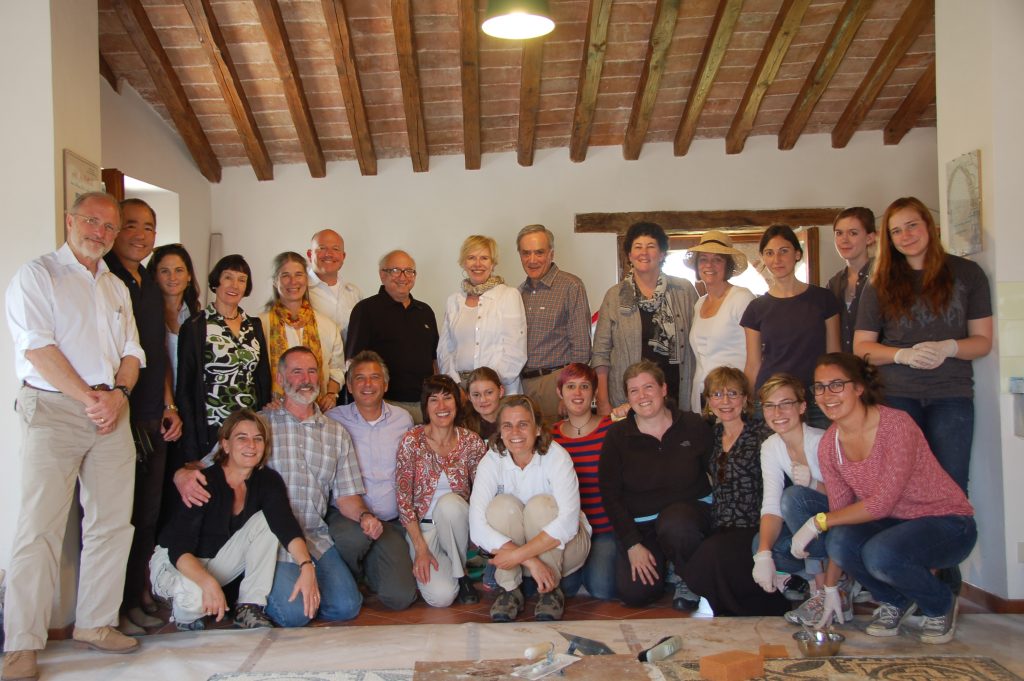 Professor Susan Stevens accompanied nine undergraduate and graduate students from Randolph College, Virginia, Grove City College, Pennsylvania, and University of Richmond, Virginia. The students came from a variety of disciplines, including Art History, Museum Studies and Classics. Two Randolph College students had already participated in 2011 and were returning for a second ACI session. Participants:
Jane Babirek
Stormy Clowdis
Catherine DeSilvey
Meredith Dougherty
Melissa Halka
Janelle Sadarananda
Claire Sumner
Kathleen Taylor
Monica Varner
These are some of the reasons that led them to apply for ACI 2012:
Cathy DeSilvey:
"As an art history/museum studies major, I am very interested in Roberto Nardi's concern with not only preserving cultural heritage, but also the context in which that heritage may be communicated to the public in a museum setting. As a participant in the ACI last summer, I am thrilled there is a chance to make a return trip to see the progress made on the frescoes from the villa at Sant'Imbenia."
Meredith Dougherty:
"I have a passionate academic interest of all things Classical. Visiting for myself a place that I had previously only read about should add new dimensions to my understanding of the ancient Mediterranean. The rare opportunity for a hands-on experience working in the field of Classical Archaeology so early in my academic career and also under the instruction of established professionals is one I wish to exploit and would surely relish."
Claire Sumner:
"I am a museum studies major, and I haven't quite decided what I want to do for my career. When Mr. Nardi came to speak about his work it peaked my interest. I like the hands-on aspect of the work that is more physical than many other art history jobs. I would like to test the waters and explore the possibilities of historical conservation."
---
Read More About This Course
---
---
General Course Information