The Nile Building
Ancient Zippori (Sepphoris), described by the first century CE historian Josephus Flavius as "the ornament of all Galilee," is located on a hill in the Lower Galilee. The city became an important city under Roman rule. After the Romans conquered the country in 63 BCE, Zippori became the capital of the Galilee.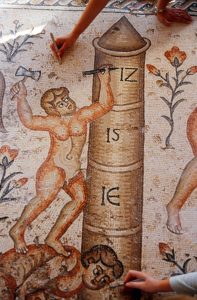 Excavations conducted during the 1990s unearthed spectacular Roman monuments of major importance such a theater, an aqueduct, buildings for public and private use, and an exceptional collection of 3rd -5th century mosaic pavements from official buildings.The Nile Festival Building, dated to the early fifth century is the largest, and one of the most impressive structures excavated in Zippori. The entire building was originally paved with polychrome mosaics, twelve of which are still preserved, decorated with fine geometric patterns and figurative design. Among these is the Nile mosaic with scenes representing an extraordinary flood of the Nile, a meter marking the level of the water, the town of Alexandria with the famous light-tower, several scenes of wild animals hunting each other. They all share high aesthetic and technical quality.
The entire mosaic collection was conserved in situ by the Centro di Conservazione Archeologica, using lime-based techniques.
The treatment provided an occasion to organize a worksite open to the public, in order to offer visitors a chance to follow the work live and to receive information on the techniques, methodology and purpose of the treatment.
---
Read More About This Project
---
General Project Information