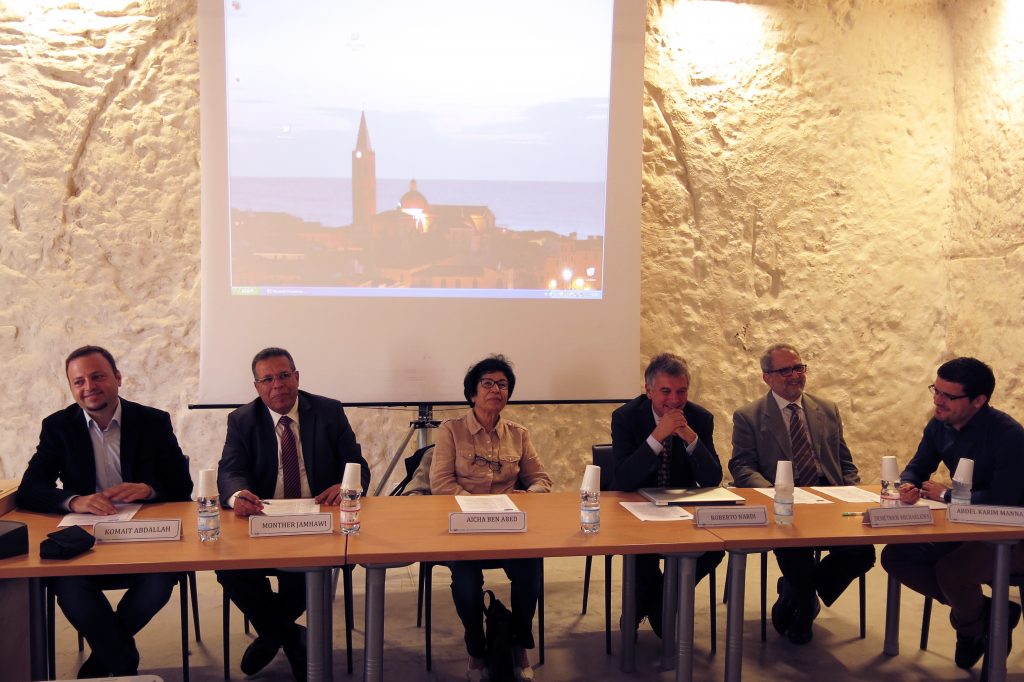 The MCC General Meeting 2014 took place in Alghero, Sardinia, Faculty of Architecture, Alghero University, on October 24th – 26th, gathering participants from all past MCC courses.
In particular, the event saw the participation of former trainees from MCC Syria 2011-2012, MCC Jordan & Tunisia 2012-2013, MCC Libya 2014 and MCC Jordan Syria Tunisia 2014. Each of the participants gave a presentation of his/her work in their own institutions, followed by a discussion on the current situation of mosaics in the Mediterranean region.
The event was organized by CCA in the frame of MOSAIKON and was one of the initiatives of Mosaic Conservation Course (MCC) 2014-2016 program.
The meeting was chaired by Aicha Ben Abed, MO­SAIKON Regional Coordinator, Komait Abdallah, Director of the Scientific La­boratories of the Directorate General of Antiquities and Museums Syria, Monther Jamhawi, General Director of the Jorda­nian Department of Antiquities, Prof. De­metrios Michaelides, President Emeritus of ICCM, Roberto Nardi, CCA Director and ICCM President, and Jeanne Marie Teutonico, Associate Director of the Getty Conservation Institute.
This is the first meeting within the Mosaic Conservation Course 2014-2016 program, the continuation of a training process started in 2011, which aims to foster a new generation of mosaic conser­vators, trainers and laboratory directors in the Southern and Eastern Mediterranean. Mosaic Conservation Courses have brou­ght together conservators-restorers from four countries to create trained teams on a Regional level that are capable of dealing with the complex issues linked to mosaic conservation. The best way for this new generation of mosaic professionals to reach positive results is to work together, share problems and solutions, and develop a common framework that can be adapted to specific local needs. Networking is the­refore essential to ensure sustainability to the professional activities in the Region.
The meeting was an invaluable occasion for sharing experience and exchanging ideas among professionals from around the Mediterranean. Common themes that arose during the presentations and fol­lowing discussions were the importance of documentation during and before conser­vation interventions, research on alternati­ve backing supports and the awareness of damage caused to mosaics by past inter­ventions carried out with inappropriate materials.
Participants that attended the Meeting were:
Mashhour Altfiehat, Nemer Alzouby, Nihad Hendawi, Ziyad Othman, Mohammad Sh'Yyab and Firas Tbayshat from Jordan.
Badr Albireeki, Ashraf Mohammed and Abdalsalam Sadoun from Libya.
Mohammad Moutaz Alshaieb, Borhan Al Zraa, Maher Jbaee and Mohammad Kaeed from Syria.
Taieb Belgacem, Ferhani Chihaoui, Jamel Lazid, Anis Ouslati and Hamadi Sillini from Tunisia.
Following the MCC meeting 2014, all participants attended the 12th Conference of ICCM, which took place in Alghero between the 27th and the 31st of October 2014.